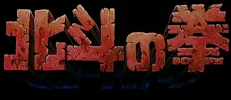 For ease of reading, I've split this 109 minute movie down into 4 parts. Click on one of the pictures to go to the relevant part.
Shin defeats Kenshiro and takes Yuria away. Meanwhile, Raoh states his plans of conquest to Ryuken. Later on, Kenshiro returns to save Bat and Lin.
Rei teams up with Kenshiro, as they find and fight Jagi.
Raoh starts his plan and attacks Southern Cross, as Kenshiro also heads there. Rei then challenges Ken-Oh.
Kenshiro fights Raoh in a battle which will decide the fate of the world.