Preview
Unfortunately I don't currently know what magazine this preview came from, but I think it was a UK SEGA magazine. This preview shows early screenshots of the game. The most interesting thing about this scan is that it shows an image of a level that would end up being cut from the final version. The above image shows a picture of a level set on a Zeppelin, you can also just about make out an enemy about to hit Indy.

The Zeppelin level was present in other versions of the game (such as the Master System and PC versions) and it was clearly going to be in the Genesis version, but it ended up being removed for unknown reasons. The text from the magazine doesn't mention the train level (the final game's second level), which possibly means the Zeppelin level was dropped in favor of that.
Preview

Final

The screenshot of the opening part of the first level shows that it originally looked very different, with different graphics for the rocks and part of the background being blue. The level layout was also different.
Preview

Final

The preview shows another shot of the early first level, showing you'd originally encounter an enemy in the first passage. You don't in the final version.
Preview

Final

The single screenshot of the third level reveals it was overhauled for the final version, with completely different graphics to what's seen in the preview. The graphics shown have more in common with the 8-bit version. This level layout is also not present in the final game.
Preview

Final

The screenshot of the fourth level again shows that the preview had different graphics. The level layout shown here isn't in the final version either.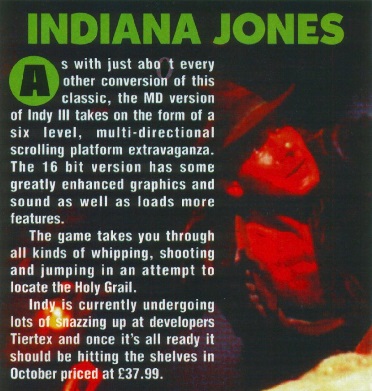 The above scan is from issue 1 of Mega Drive Advanced Gaming. Note that it claims that there will be six levels in the game, but there are only 5 in the final version.