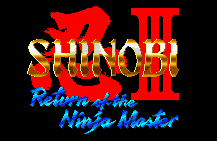 Shinobi III -known as The Super Shinobi II in Japan -was originally due for release in 1992. The game was completed, and even reviewed by several magazines, but this version was never released. SEGA decided to delay the game so several changes could be made to it, and the revised version went on to be released in 1993.
The Original Version
Intended to be released in 1992, Joe Musashi returns to fight against Neo Ghost, who have captured Naoko.

Sadly there is currently no way of playing this version of the game, however, there is an extremely early prototype available. This section also includes extensive magazine scans showing the original version.
ザ・スーパー・忍Ⅱ
The Final Version
Released in 1993, Joe Musashi returns to fight against Neo Zeed and destroy their leader, the Shadow Master.

A prototype of the final version is also available, and is covered in this section.